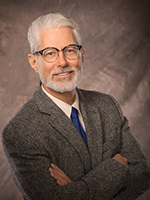 Hello. I'm Dr. Eric LeMay. I have worked in healthcare since 1980, I became a registered nurse (RN) in 1987, and I've been a Doctor of Chiropractic since 1994.

My mission is to be a reliable resource to the community. My clinic provides services in a professional yet relaxed atmosphere. My job is to help people understand what may be causing their concerns/ symptoms (diagnosis) and how to go about the remedy (treatment). Sometimes manipulation can seem counter-intuitive. "My back's killing me and he's going to jump on me?" I get that. Understanding anatomical mechanics and their relationship to inflammation and pain is important. I enjoy teaching.

Healthcare, generally speaking includes a spectrum of options, each with potential risks and benefits. Hands-on care may provide a very direct, effective and safe alternative to drugs and surgery. This is especially true regarding aches and pains caused by posture, overuse and trauma. The first step is a thorough evaluation. I always perform a complete health history and physical examination, including neurological and orthopedic testing. We talk about what may be causing the problem and potential solutions. Informed consent and patient-centered care are paramount.

My hospital based experience (in Massachusetts and at OHSU) provide a solid foundation of acute care clinical background. I offer expert physical evaluation, patient education and hands-on spinal and extremity skilled chiropractic manipulation. At Bull Run we also provide therapeutic massage therapy, custom foot orthotics, kinesiotaping, laser, ultrasound, electrotherapy and education in home care.
I am not a primary care provider. I specialize in musculoskeletal manual medicine. However, I do function as a "portal of entry" physician with ability to evaluate many common complaints and make referrals as appropriate. I look in ears, listen to hearts and lungs, etc. I work closely with the medical and complementary healthcare community. I never hesitate to make appropriate referrals. I have X-ray on-site and any other imaging may be facilitated as needed.

We welcome all people with respect and dignity. Many of our patients enjoy vigorous athletic and outdoor activity. Others have difficulty with walking and and daily activities. Everyone deals with multiple stressors: work, family, recreation... and trying to cope. Coping becomes more difficult when pain enters the picture.
EDUCATION:
May 1987. Bachelor of Science in Nursing (BSN). University of Massachusetts at Amherst.
May 1994. Doctor of Chiropractic (DC). University of Western States. Portland, Oregon.
WORK HISTORY:
Doctor of Chiropractic: Private practice at Bull Run Chiropractic Clinic. Sandy, Oregon. 1998 to present.
Private practice at Mt. Hood Chiropractic Clinic. Troutdale, Oregon. 1994-2000.
Registered Nurse: Oregon Health Sciences University Hospital, Portland, Oregon specializing in kidney and liver transplant, 1989-1996
Registered Nurse Sisters of Providence Mercy Hospital, Spingfield, Massachusetts. 1987-1989.
Recreation Therapist. Belchertown State School, Belchertown, Massachusetts. 1982-1987.
Worked with profoundly developmentally delayed population in an institutional setting.
INTERESTS:
I am married and have 4 children. I enjoy time spent with my family and friends, skiing, camping, fishing, disc golf, anything outdoors.